On May 19, @Robin will start the 6-week fit program. An intensive program in which, in addition to physical training, there is also advice on nutrition and stress. These themes ensure a healthier mind and fitter body.
We start with the intake where we measure height, weight, blood pressure, fat percentage and BMI.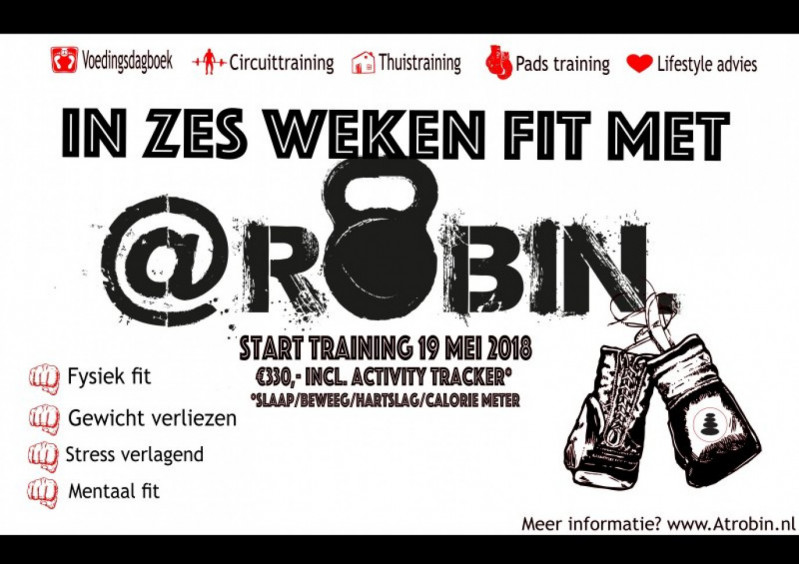 This is the starting point. We then individually set a concrete and realistic goal that you (with support from us and the group) will work towards.
The physical training sessions
Depending on the weather, the training sessions are outside as much as possible and consist of circuit training and pads training (boxing on hand cushions), you also have the option to join the existing heavy bag training for free (kickboxing on a large punching bag) on Tuesday. In short, the ultimate way to make/get your body fit in 6 weeks with a huge boost.
Nutrition
First of all, we accurately calculate your calorie needs because the rule of 2500 for the man and 2000 for the woman is far too general. Then we explain which ratio of carbohydrates, fats and proteins is the most sensible and why. We explain why some diets don't work and what does work. Finally, you will receive a food diary that you hand in every Saturday and on which you will receive feedback on Monday.
Stress and being mentally fit
Stress has a huge effect on the body both physically and mentally. Among other things, it is at the expense of your immune system, but has a direct influence on your weight loss. We explain why this happens and what you can do about it. We don't solve the cause, but give you the tools to create more moments of rest, which also benefits your weight loss.
Specifically, the program looks like this:
Monday 19:00 to 19:45 circuit training
Tuesday 19:00 to 20:00 optionally join the existing heavybag group
Wednesday home training
Thursday 19:00 to 19:45 pads training
Friday home training
Saturday 08:30 to 10:00 (theory, measuring/weighing) and circuit training
Sunday rest
The costs are EUR 330. For that money, you get 12 circuit, 6 pads, 6 heavy bag options, and 12 home workouts. A food diary with weekly feedback. An activity tracker (which measures your heart rate, calorie consumption, your steps, your sleep pattern and your blood pressure). In addition, it is a group process that makes the set goals easier to achieve. All ingredients for successfully getting fit / losing weight are present. All you have to do is sign up.
Location
The location where we train is Engels Erf 35 in Harderwijk. The old tax office. We train outside on the field or inside at Nakama Gym.
If you have any questions or would like more information, please call @Robin: 06 57573865 , send an app or leave a voicemail message. You can also send an email info@atrobin.nl