Two years ago, Tim told me that he would like to play a different sport, 'he had seen a bit of football'. I was curious what he wanted to do, water polo, mountain biking, it could of course be anything. Tim told me that he wanted to kickboxing, he had heard that there was a gym in Harderwijk where you could follow kickboxing training and you could register for two free trial lessons. I thought I knew my son well, but kickboxing? That's not for him at all, is it? Soon he will be hit and he will break something, he will also have to deal blows, pff… do I like this? Quite honestly, that was my very first thought when Tim indicated that he wanted to start kickboxing, I really thought that after a trial lesson he would say that it was not for him after all.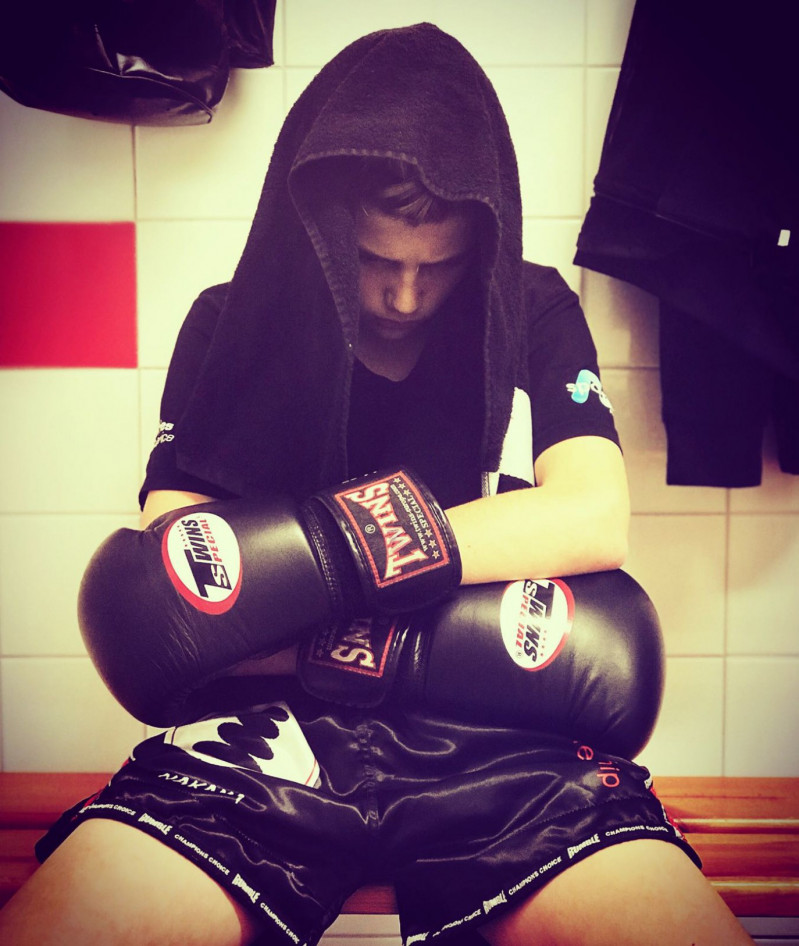 But nothing could be further from the truth, after his first lesson he was very enthusiastic. "This is so cool Mom, and everyone is so nice!" The second lesson I took him away, I was curious where he was going and I immediately had a good feeling about this gym. This would definitely work out!
We are now two years later and there is little left of that shy boy, next to me is a confident, sporty boy who has already fought three matches of which he has won two, very disciplined, training, nutrition, your buddies support that also have competitions. What a wonderful and close-knit team. Many people no longer recognize Tim so he has changed both externally and internally in a positive sense.
I dare say that Tim's choice to take up kickboxing at Nakama Gym is the best choice he has been able to make. It has brought him so much confidence and happiness in his young life. Every day he goes to the training sessions full of enthusiasm, skip one? Then there must be something very important. Nice to see that your child gets so much energy from his sport. As a parent, that also makes you happy!
Moms sometimes ask me when I tell them I'm going to watch his matches 'Can you watch your kid get beat up?' When I hear that I always have to smile, because I once thought exactly the same before I knew Nakama Gym, now I know how it really works. It's not a matter of who knocks each other out first. It is a game of techniques, and the one with the best techniques wins the match. A beautiful game to watch. Of course there are serious blows, but everything is done with respect to each other. They train hard and long to get to the competition level. Nakama Gym values ​​respect, which is what makes Nakama Gym so unique. A sports family where everyone is respected and accepted, at whatever level you play.
The power behind Nakama Gym is discipline, respect and above all friendship. And I am a happy mother who is extremely proud that her son is doing what his passion is.
Osu! Jessica Edelman