Dear Nakamas,
We've been waiting a long time for this news, but we certainly didn't expect it so soon. Kickboxing, MMA, Boxing, Judo, BJJ, Yoga and all our other possibilities can start again... And no, not outside, but just as we are used to, in our trusted dojo, nice inside. Because we don't want to completely take your training outside, the pocket trainers can stick outside for a while.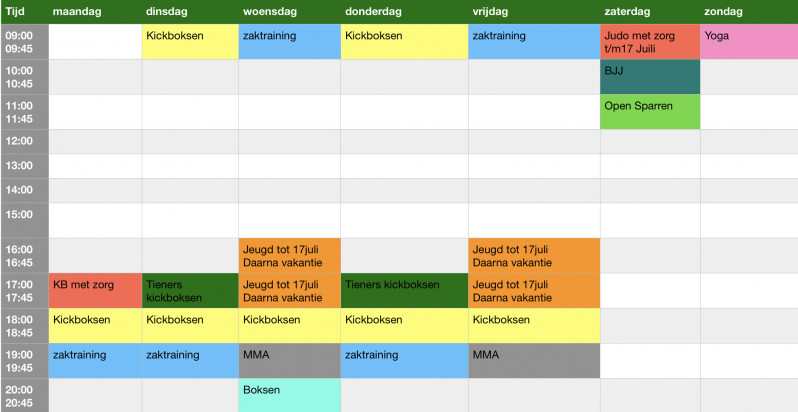 We would like to ask you to read the information below carefully to avoid confusion and unnecessary questions. Sorry in advance, it is a very long email but hopefully an email that provides a lot of clarity.
Normally Nakama has a summer schedule, this schedule coincides with the summer holidays of the children from this region. This holiday starts in 2 weeks. Because it is very chaotic when we change schedule after 2 weeks, we have decided to start the summer schedule immediately, this schedule starts on July 4th. This means that July 3 is the last day that all training sessions are given outside. Normally the gym is closed on the weekend with the holiday schedule, but this time we will also continue during the weekend, because we don't want to deprive you of any more classes.
The summer schedule looks like this:
(see image)

The youth classes on Wednesday, Friday and Saturday mornings will continue until July 17th. Normally these classes expire during the entire summer holiday, because we think it is important that the youngest youth really have a holiday, but they have not been able to train 'normally' for so long that a little rhythm of how everything was seemed nice to us.< /p>
What do the corona measures mean for the gym?
Register for class via nakama-inschrijven.nl
The lesson duration is 45 minutes due to walk in and out.
Make sure you have done everything you can do at home regarding changing clothes before you go to the gym.
Bag training will be held outside until the end of the summer schedule.
1.5 meters away in the cafeteria.
1.5 meters away in the dressing rooms.
Toilet and shower can be used again.
Have you exercised? Disinfect your equipment after use.
Don't feel fit? Please stay at home.
As little 'public' as possible.
Try to come by bike as much as possible, do you come to train in the evening and do you really want to go by car? Park it at our neighbors "Jongejan en Wisseborn" because your car will be inspected on the roadside..
As you are probably used to from us, we have not been sitting still. For example, there is now not only the possibility to come and train for our martial arts or for our HIIT equipment, but you can now also come to us for plate loaded fitness!
Do you feel that you could use some extra training in addition to the lessons or do you need 1 on 1 training? Personal training is possible again! More information about this? Then app to 0630254475.
A few more things apart from the training:
Our system has shown that there is an error when someone has a birthday. Because we are very happy that almost everyone has continued to pay during the corona time, we do not immediately want to collect full money from everyone where that applies. We will adjust the system from August so that the correct direct debit will be issued on 1 September. I will give a summary below of the correct subscription costs and the ages that are linked to this, so you know what to expect.
Judo(with care) | €27.50
Kickboxing with care | €20
Kickboxing 5 to 7 years | €21.50
Kickboxing 8 to 10 years | €21.50
Kickboxing 11 to 13 years | €29
Kickboxing 14 to 16 years | €29
Youth competition fighters pay an extra contribution of 7.50 on top of their normal subscription
Kickboxing from 17 years >
1 time a week on a fixed day | €24
2 times a week on a fixed day | €36.50
3 times a week on a fixed day | €44
Unlimited training, varying lessons and fitness | €50
Adult competitive fighters | €50
Unlimited fitness during opening hours | €24
On behalf of team Nakama, thank you again for the trust, waiting and participating in the outdoor training sessions! Perhaps a fun fact, today June 29th there have been a total of 1933 registrations for the past 'corona training sessions'.
Osu,
Sensei John, Danique and team Nakama